The British African Caribbean Community (BACC) Journal is a new CBACS initiative, shared at the 11th Anniversary Celebration of the Countdown to The Metanoia Project (TMP) 2007-2034 on 10 December 2018.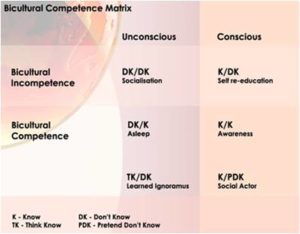 The aim of the BACC Journal is to bring academically-based community service ideas into the families of the 'Windrush Generation'. The goal is to stimulate ongoing conversations of how to improve our life outcomes as a collective group between group members. We are taking on the responsibility of engaging in COMMUNITY-BASED Human Resource Development.
The first BACC Journal focuses on the subject of 'Cultural Literacy'. The article presents the case that a fundamental embodied human cost of slavery continues to be our unconscious socialisation for 'cultural illiteracy' resulting in our 'socialised helplessness'. This is seen with our positioning for unconsciousness on quadrants 1 and 4 of the bicultural competence matrix (BCM).
If you want to contribute or just find out more, please email: